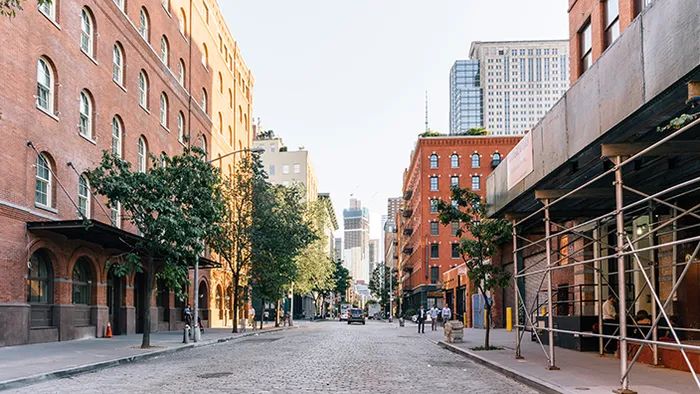 Get to know Tribeca
Though its name technically stands in for the mouthful of "Triangle Below Canal Street," Tribeca has long since distinguished itself as a recognizable word in the NYC lexicon. (Plus, its boundaries these days are hardly triangular). Tribeca lofts are the standard-bearer for that style of home; sitting within their landmarked cast-iron building exteriors, they have become objects of adoration and aspiration. Following the Civil War, the city's shipping industry shifted from East to West Side, due in no small part to the longer piers along the Hudson in present-day Tribeca. That body of water still looms large today, as views over it are another key draw for residents in the area. A chunk of Hudson River Park—which extends north over four miles—lies within Tribeca as well, granting a relaxing waterside public space and a simple route to travel as far north as 59th Street via the Hudson River Greenway.
NEARBY NEIGHBORHOODS:
SoHo/Nolita
, Battery Park City, Chinatown,
West Village
,
Greenwich Village
, Financial District Get to know our 
homes for sale in Tribeca
You can also check out our 
homes for rent in Tribeca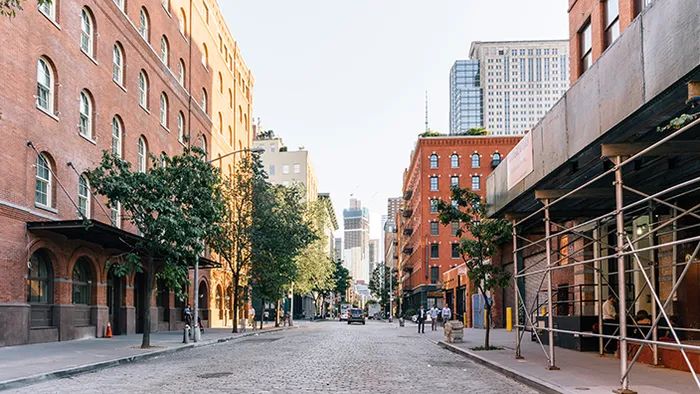 Tribeca History & Culture
Expansion of the subway boosted the growth of many New York City neighborhoods, and Tribeca is no different. Trains we now call the 1, 2, and 3 started pulling into stations in 1918, bolstering what was already a commercial center for dry goods and textiles in the city. By the 1960s, however, those industries had left Tribeca. With nothing else to fill empty warehouses, artists began moving in. Living and working in the massive vacant buildings, they ushered in a pivotal change in the neighborhood's story. Art thrived in Tribeca and continues to do so today with galleries of all sizes. The Tribeca Film Festival has become an institution, an event where upcoming and established filmmakers alike can exhibit their films under the bright city lights. However, it's not an unending blitz of glitz and glamour—while distinctly metropolitan, Tribeca offers a mellower alternative to the bustle.
Tribeca Dining & Shopping
Nightlife in Tribeca tends to be subdued compared to its neighboring areas. Overall, it's more of a destination to enjoy fine dining than it is one for late-night carousing. Some restaurants are helmed by chefs with seriously impressive resumes, but there are also decades-old institutions and even more casual spots. After all, if you can't run out at all hours to grab a quick bite, are you really living in New York City? Over Canal Street, SoHo simply cannot be beaten for shopping. However, while wandering Tribeca's streets, you'll still have the chance to come upon unique finds—whether at a bookstore or a shop with designer kitchenware. Likewise, even though more options lie a handful of blocks to the north, you won't be shut out searching below Canal for your new favorite jacket, bag, or shoes.

Sorry we are experiencing system issues. Please try again.