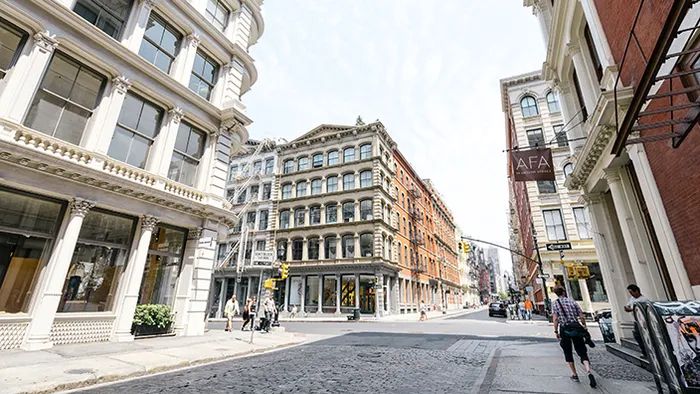 Get to know SoHo/Nolita
Even if you've somehow never heard of the illustrious SoHo, you'll always know where to find it—and never confuse it with London's lower-case Soho. As with most things relating to New York City, everyone has an opinion, and SoHo's east-west boundaries are no different. However, what's indisputable is it sits in Lower Manhattan, north of Canal Street and, of course, south of Houston. Architecturally, the neighborhood is a time capsule, largely defined by buildings with decorative cast-iron façades. These 500-some structures date from the mid-to-late 19th century, when cast-iron experienced an Industrial Revolution-era moment due to its strength—providing support without relying on interior columns—resistance to fire, and cheap costs relative to other materials. All are contained today in the succinctly-named SoHo-Cast Iron Historic District. Presently, SoHo is always alive with people, whether residents living in spacious lofts or visitors drawn by the second-to-none shopping and restaurant options.
NEARBY NEIGHBORHOODS:
Lower East Side,
Tribeca
,
West Village
,
Greenwich Village
,
East Village
, Chinatown Get to know our 
homes for sale in SoHo/Nolita
You can also check out our 
homes for rent in SoHo/Nolita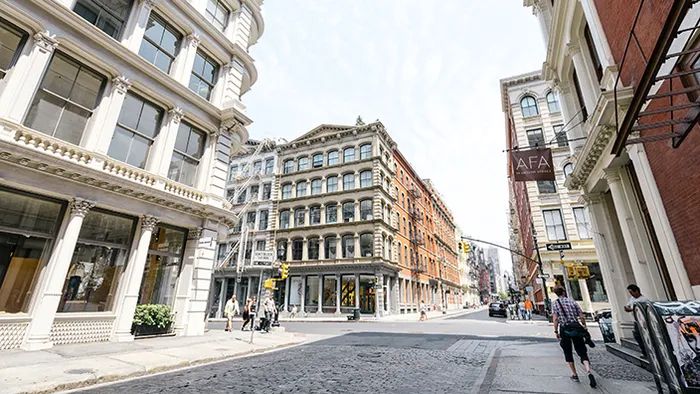 SoHo/Nolita History & Culture
In the mid-1800s, many residents of today's SoHo area—who had only moved there earlier in the century—started leaving. However, SoHo pivoted and endured, setting itself on a path of constant evolution into the beloved modern neighborhood. Cast-iron architecture began its rise while a theater district took hold, helping create one of the city's central entertainment districts of the era. Around the same time, numerous manufacturing industries grew in SoHo, including lumber, glassware, and textiles. As that story tends to go, manufacturers left the city following World War II. With no clue what to do with anything left down in SoHo, the city hatched plans for an expressway in the area. But, thanks to the influence of preservationists plus civic and cultural leaders, those ideas were eventually dropped. Meanwhile, artists began to live and work in massive, otherwise abandoned warehouses, charting the course for SoHo to thrive once again.
SoHo/Nolita Dining & Shopping
Plenty of New Yorkers call SoHo home, but the area these days is perhaps best known for being a nucleus for shopping. Like much of the neighborhood's past, even its shopping dates to the 19th century when names like Lord & Taylor and Tiffany & Company established presences. Modern SoHo seemingly can't get enough shopping, as stores are located up and down the streets in parts of the neighborhood. Everything can be found around town, whether from familiar U.S. and international brands or trendier boutiques destinations. There are also opportunities to stop in at bookstores or even purchase artwork from street vendors. Even if shopping sets a high bar for SoHo, the dining and nightlife about equal it. Chic establishments serving food from around the globe make a name for themselves in this part of Manhattan, as people travel across a multitude of subway lines to experience.

Sorry we are experiencing system issues. Please try again.